We're making our first foray into a book club of sorts and we'd like you all to read along with us.

THE BOOK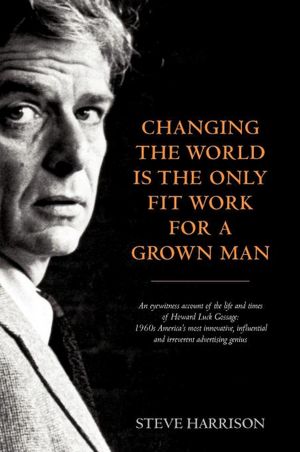 The life and times of 60s advertising (anti) hero, Howard Luck Gossage. A creative who harnessed his hatred of advertising and the corrupt Mad Men of Madison Ave. to reinvent the industry and, dare we say, change the world.

So, what the hell did he do? Well to name a few…

Founded the first creative agency
Invented interactive advertising and the PR Stunt
Awarded a live Kangaroo to a contest winner
Saved the Grand Canyon from being flooded by the US Government
He even helped free an entire Caribbean island
THE AUTHOR
Steve Harrison, ex-Wunderman worldwide CD and winner of more direct Cannes Lions than any other living creature in the history of the civilised world. Mighty fine writer too.
THE EVENT
Tuesday, June 26th at 8pm GMT
We'll host a live Q&A sesh via G+ Hangout with the author, Steve Harrison.

This gives you a month or so read the book. If you can't read, ask your friends or loved ones to read it to you at bedtime.
Trust us, it'll be well worth it.
mykaeljay reblogged this from helloyoucreatives and added:

oop a real reason to have a g+ account